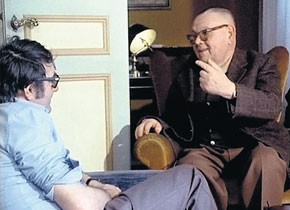 "The Last of the Unrighteous": Benjamin Murmelstein, filmed by Claude Lanzmann
October 14, 2007
 
On Sunday, October 14, an extraordinary, as-yet unscreened film document will have its first theatrical presentation at the Austrian Film Museum. In 1975, working on his epoch-making documentary Shoah, filmmaker Claude Lanzmann shot a long interview with the Viennese Rabbi Benjamin Murmelstein.

The interview focussed on Murmelstein's ambivalent role as a high-ranking official of the Eichmann-controlled Vienna Jewish Community in the early 1940s and as a "Jewish Elder" of the Theresienstadt Ghetto. The material was not used in Shoah and has been preserved in its entire unedited form by the United States Holocaust Memorial Museum.

The Film Museum will show more than five hours of the filmed conversation, dealing with Murmelstein's time in Vienna. We encounter an astute, highly educated man who called himself "the last of the unrighteous". His cooperation with the National Socialist authorities was widely considered a scandal after 1945.

Before the two-part presentation of this document a panel discussion will shed light on the historical background. Later in the evening, Claude Lanzmann will speak about his work with Benjamin Murmelstein in the framework of a moderated public Q&A.

A joint presentation of the Austrian Film Museum and the Vienna Wiesenthal Institute for Holocaust Studies, in cooperation with the Vienna Jewish Community, the Jewish Museum Vienna and the United States Holocaust Memorial Museum.
Related materials