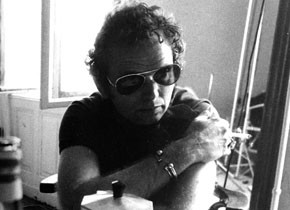 March 29 to 31, 2006
 
John Cook (1935–2001) personifies two seemingly opposing positions in Austrian filmmaking of the 1970s. He was both an outsider and a central figure in this period. With the films that the Canadian-born artist shot between 1972 and 1982 in Vienna, he established a lasting place for himself in Austrian film history.
 
The documentary Ich schaff's einfach nimmer/I Just Can't Go On, the semi-autobiographical and semi-documentary feature film Langsamer Sommer/Slow Summer and the literary adaptation Schwitzkasten/Headlock constitute rare exceptions from the norm for those years.
 
Inspired by the Nouvelle Vague and Italian Neorealism, they introduce a new tone of immediacy and sensitivity to Austrian cinema, a distinctive humour and a strong interest for everyday lives. The Tribute to John Cook presents his principal works which have been restored by the Film Museum.
 
Prior to the screenings in Vienna, this show will also be presented at the Diagonale – the Festival of Austrian Film in Graz. Coinciding with the show, the Filmmuseum and SYNEMA will issue the first book on John Cook, edited by Michael Omasta and Olaf Möller. Alongside essays and conversations, the book also contains Cook's hitherto unpublished autobiography (in English).
Related materials