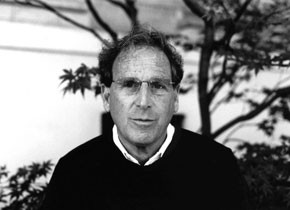 In Person:
Nathaniel Dorsky
September 27 and 28, 2006
Nathaniel Dorsky, who was born in 1943, lives and works in San Francisco. In the United States he is considered one of the major avant-garde film artists, yet his work remains virtually unknown here.

In 1964 Dorsky presented his first film in the style of psychodramas; this opened doors for his subsequent pay job as a cinematographer and editor of commercial films. In his own work, however, he soon abandoned the narrative element in favour of an intense focus on everyday events and phenomena in cities and in nature, transforming them into strong visual experiences. (Dorsky also admires the ways in which light is being used in the films of Ford, Ozu and Rossellini.)

In order to better create and emphasize the infinite variations and effects of light on the screen, he continues to use a 16mm Bolex camera, unbroken silence and a slower projection speed of 18 frames per second, which results in a slight flickering. His captivating compositions which occasionally recall still photography place him in the tradition of US experimentalists Peter Hutton or Larry Gottheim.

In his essay Devotional Cinema (2003), Dorsky describes aspects of film and his own film art: in his eyes, the materiality of cinema is a perfect metaphor for the "materiality of a vision: we rest in the darkness and experience vision". It is his objective to achieve this immediacy of the visual experience, thus permitting an opening of one's experience of the world which cannot be reduced to verbal codes and analyses. Dorsky's cinema produces an almost meditative space in which loneliness and transitoriness resonate alongside beauty.

A joint programme with sixpackfilm.
Related materials