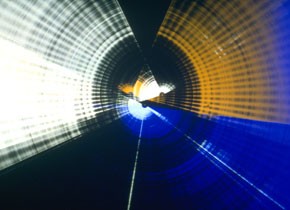 In Person:
Joost Rekveld
September 29 and 30, 2010
In the abstract films of Dutchman Joost Rekveld, clarity and logic of construction take the place of emotional gesture. In his lecture on Poetry and Light, Rekveld will discuss how he has managed to create both visually fascinating and conceptually mature works. His oeuvre is influenced by the color and forms of filmmakers like Paul Sharits, Jordan Belson, and especially James Whitney, who inspired Rekveld to take up filmmaking in the first place. Like his predecessors, Rekveld creates "ultra-chromatic" experiences" based on mathematical principles (all his films are named after prime numbers).
From a technological standpoint, Rekveld has developed further with each new film. Nearly all his early work was produced with mechanical and optical equipment which allowed a direct, "lens-less" communication between light and celluloid. Rekveld's latest 35mm film, #37, was created using self-written computer software and is based on the geological patterns of stones and crystals. Rekveld writes: "I'm primarily interested in honesty with regard to the technologies I use. What I am really looking for is elegance in the resources. This is directed by the visible result and, in that, I am searching for a form of beauty." Contemplating Rekveld's vibrantly abstract and artificial colors, the audience is invited to listen to the murmur of their own imagination and experience the pure sensation of audio-visual perception.
Born in 1970, Rekveld studied video design, philosophy and electronic music composition. He currently lectures in media technology, creates kinetic installations, designs projections and lighting concepts for theater and dance productions and works as a curator.
A joint program of sixpackfilm and the Austrian Film Museum
Related materials