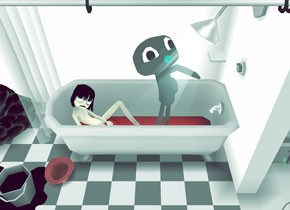 May 29 to 31, 2013
 
Within the internationally acclaimed works of animation artist David OReilly (born in 1985 in Kilkenny, Ireland), the irresolvable contradictions of the present appear in the form of images and figures – only to be resolved at an astonishing rate: a utopia of (digital) cinematography. OReilly's shorts (and 'very-shorts') are in search not just of a balance between narrative and abstraction, but that perfect state of limbo between deep seriousness and (nasty) humor, which is also known to pre-digital art – the paintings of Hieronymus Bosch, to pick only the most famous example. For the first time in Austria, the Film Museum and VIS – Vienna Independent Shorts now present a tribute to this young artist.
OReilly's "longer" films condense entire coming-of-age narratives into a tight spatial and temporal framework – stories of children, cats, mice and hybrid creatures in search of meaning, community or autonomy. His sense of the absurd, ridiculous, and ironic combines with a characteristic style of pathos and transcendence. The digital medium inscribes itself into these images in darkly funny and surprisingly insightful ways: OReilly's characters and worlds are drawn in rough strokes and quickly dissolve to expose vectors, pixels, raster graphics and program interfaces; in a matter of milliseconds and absent any realistic sense of space, diverse semiotic worlds collide with one another, as if one had suddenly opened dozens of browser windows – from Hollywood and Walt Disney to South Park and Jean-Luc Godard.
At first glance, OReilly's films appear to be technically botched high-speed morality paintings of the 21st century. But his shortest, graphically demanding works (or his animations in Garth Jennings' Son of Rambow) are proof that everything is intentional here. There is a clarity and purity, a reduction to the "bare essentials", which enable OReilly's oeuvre to gain its characteristic compactness in all matters narrative and emotional: in this crazily condensed cosmos, the new is constantly discovered anew.
David OReilly will be present for all screenings. On May 29th, his independent work will be shown; in a master-class on May 30th, OReilly will speak about his commissions and his work in Hollywood; and on May 31st, he will present a "carte blanche" program consisting of rare films and fragments: "Found Animation." 
Related materials