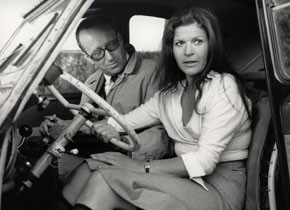 Haneke on Haneke
Conversation, Book Launch, and Film
June 10, 2013
The book Haneke on Haneke holds a special place among the many publications on the director which have appeared in recent years. Inspired by a classic, François Truffaut's Le cinéma selon Hitchcock, French film critics Michel Cieutat and Phillippe Rouyer conducted detailed discussions with the director over an extended period of time, covering each of his films from 1974 to 2012, as well as his influences and "turning points," his film practice and artistic principles. 
The original French edition published in the fall of 2012 is now being released by the Alexander Verlag in a German translation overseen by Michael Haneke: 400 pages in which the author details his work as never before. The book also includes numerous illustrations from Haneke's collection of papers, which is held at the Austrian Film Museum.
One of the merits of this volume is the attention paid to the director's early work – his extraordinary films for Austrian and German television. The book launch at the Film Museum focuses on this aspect of the work: in conversation with Michael Haneke, Alexander Horwath will explore the connections between Haneke's TV work of the 1970s and his major motion pictures of recent years. Lemminge: Arkadien (1979), will also be screened, the first of his films to be based on autobiographical material rather than a literary work. 
 
Organized in collaboration with the Alexander Verlag (Berlin/Cologne).
Related materials