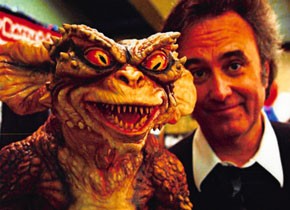 September 27 to October 13, 2013
If Joe Dante didn't exist, a group of enlightened cinephiles would have had to invent him. His films simply had to exist, because they embody all that generations of movie lovers have come to expect from cinema: smart, compassionate, and playfully told stories about ordinary people who experience exceptional things – from a trip through the bloodstream to a war between toys. And "Sante Dante" always gives his audience realpolitik for thought along the way: few U.S. auteurs have so explicitly discussed the state of the nation, exposed the manipulations of the industrial-military complex and laid out the neuroses and psychoses of the middle-class. Joe Dante most beautifully demonstrates that mass entertainment, popular education and political subversion can all be combined in a harmonious form. 
Dante was born in small-town New Jersey in 1946, three weeks before Steven Spielberg, whose career has an interesting (and often contrasting) relationship to Dante's. To imagine Dante's childhood, one should simply watch his wonderful semi-autobiographical film, Matinee (1993): young Joe also went to see monster movies on a continuous basis, taking in not only the Universal classics but also rougher-edged product from less prestigious companies – the main thing was to shudder in fear. References to the horror & fantasy genres appear throughout Dante's oeuvre: in The Howling (made in 1981, but still the most convincing werewolf film of all time), almost all characters are named after previous directors in that field, while the gravestones in Homecoming (2005) are marked with the names of other famous zombie filmmakers; cameos in Dante's films by legends of the genre such as Roger Corman and Forrest J. Ackerman have themselves become legendary.
Comic books were Dante's second love – reading his first MAD Magazine (issue no. 11) was a life-changing experience. It follows logically that he would develop a strong passion for Warner Bros. cartoons, especially for the work of Chuck Jones: Aren't Alfred E. Neumann and Daffy Duck actually twins? At the age of 13, Dante combined these interests and began to make movies on rolls of paper; his "Shoebox Theater" premiered hand-drawn titles like Fort Death or The Spook Meets the Spider for an audience of one (his little brother). Entering the Philadelphia College of Art, Dante realized it was impossible to study comics – and became a filmmaker. 
In 1966, together with fellow student Jon Davison, Dante unleashed the first version of The Movie Orgy: an all-night Found Footage trip, assembled from all manner of less-than-respectable film productions. Thanks to Davison, Dante then landed at Roger Corman's New World Pictures – as the story goes, the Trailer Department at New World was set up only so that Dante had something to work on. It was there in 1976 that Dante (co-)directed his first feature film, Hollywood Boulevard, a portion of which was constructed from fragments of earlier Corman films. Dante's first solo effort followed in 1978: Piranha, the most successful New World production to date. The Howling provided Dante his big breakthrough; Gremlins (1984) made him a star. And with Gremlins 2: The New Batch (1990), he proved that sardonic mini-monsters are a viable tool in the creation of political essay films for the multiplexes.
But what does success in Hollywood mean if you want to follow your conscience? In the last two decades it has become increasingly difficult for Dante to make films. Masterpieces such as Small Soldiers (1998) and Looney Tunes: Back in Action (2003) encountered massive indifference; The Hole (2009), his 3-D teen-horror variation of Solaris, was without a distributor for many years as it didn't fit into any neat market category. Nevertheless, Dante moves on, using every niche offered to him, whether on TV (which funded some of his major works such as The Second Civil War and Homecoming) or on the Internet. He has a lot to say about the human condition and will continue to offer every viewer a chance to recognize themselves in his characters, in their worries and their dreams – from the Tyrolean journalism student-part-time-barmaid to the auto locksmith in Mubi, Nigeria. And whenever possible, including werewolves, zombies, and the Tasmanian Devil.
A joint presentation of the Austrian Film Museum, the Slovenska Kinoteka in Ljubljana, and the Vienna /slash Film Festival. Joe Dante will be our guest of honor, and will participate in several public discussions and Q&As. The new FilmmuseumSynema book – the first English-language volume about Joe Dante's work – will be available from September 20.
Related materials