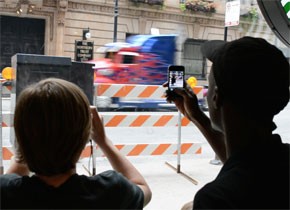 The Aesthetics of Analysis
Kevin B. Lee – In Person
April 18 to 20, 2016
The short films of Kevin B. Lee (b. 1975) can be interpreted as a contemporary response to Raymond Bellour's "dispossession of the object" of film by its transfer into language or writing. Crowned the "King of Video Essays" by the New York Times, Lee has been producing critical-analytical works on cinema since 2007 – at first via his blog shootingdownpictures, and now also as contributions to New York's MoMI and, on a weekly basis, to Fandor. His body of work has come to include more than 250 pieces, encompassing analyses of individual films, artists' portraits and essayistic reflections on the relations of cinema, technology and society.
 
Alongside Lee's precise examinations of films (invariably guided by personal preferences), a specific aesthetic of analysis comes to light in his work. By means of moving images and sounds, Lee scrutinizes these very forms of expression – giving rise to works that also represent a poetic form, creating their very own island in cinema. Lee's remarkable Transformers: The Premake, for instance, was screened in the avant-garde section of the Rotterdam Film Festival while being celebrated as one of the best "documentaries" of 2014 by Sight & Sound.
 
The program organized by the Film Museum is the first comprehensive tribute in recognition of Lee's work. It invites audiences to join the author's balancing act on the fine line between theory and art, and to plumb the potential depths of his critical method. In line with the permanent progression of his work(s), Kevin B. Lee will hold "live-performances" along with some of his pieces, also slipping in selected video essays by other authors into the screenings.
Kevin B. Lee will be present for all screenings.
Related materials