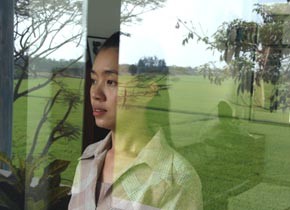 Apichatpong Weerasethakul
March 26 to April 2, 2009
Apichatpong Weerasethakul is not only the first Thai director whose works have received a lot of attention in international discourse, but one of the most outstanding figures in contemporary cinema. For the decade now nearing its end he can claim the significance which was accorded to Hou Hsiao-hsien and Abbas Kiarostami at the end of the 1990s.
Apichatpong's feature films Mysterious Object at Noon (2000), Blissfully Yours (2002), Tropical Malady (2004) and Syndromes and a Century (2006) have elevated him to the status of a "world cinema auteur". But what many of his cinephile admirers may not know is that much of his inspiration comes from the popular Thai cinema of the 1960s and 70s, or that, at the other end of the spectrum, his work and his reception are also deeply entwined with the world of contemporary art. In this field he has created numerous short and medium-length films and videos which will also be included in this complete survey of his works. Coinciding with the Retrospective, which will subsequently be shown at the Munich Film Museum and the Arsenal in Berlin, the Austrian Film Museum is publishing the first English-language book on the filmmaker.
The Adventure of Iron Pussy (2003), a joyfully campy collaboration with Thai artist Michael Shaowanasai, is Apichatpong's only unmediated tribute to the cinema of his childhood. Like Shaowanasai, Apichatpong is gay, an aspect of his life which repeatedly appears in his films, and which – in tandem with the political allusions of his films – constantly causes problems for him with the Thai censors. His latest feature film Syndromes and a Century, produced in conjunction with the Vienna Mozart festival New Crowned Hope, became a cause célèbre during the current political clashes in Thailand, when Apichatpong refused to re-edit it.
Syndromes
is also the most autobiographical of his films to date. The story about peculiar goings-on in a country hospital was inspired by his parents, both of whom worked in the hospital of his home town Khon Kaen. Apichatpong spent many hours of his youth in this hospital's corridors before beginning his architecture studies at university. Prior to his graduation in 1994, he had already made his first short film, and many more would follow in his years at the Art Institute of Chicago, where he completed a second degree.
Mysterious Object at Noon, his first feature, is a kind of bridge in his work – a magnificent hybrid of fiction and documentary. Apichatpong travelled across Thailand, meeting people and inviting them to narrate a "collective story"; in each case, the storytellers were only given the previous "segment" before adding on to it with their own yarn. Thus a veritable epic evolves, written by the generous and lovable zaniness of everyday Thai life and its fantasy-craving protagonists. In his subsequent features, several elements from his début reappear: non-professional actors, a 'documentary' aesthetic, fragmented storylines, and the frequently hazy relationship of one part to another (his films since 2002 all have a bifurcated structure). The wildly flickering pull towards the fantastic and spiritual also becomes manifest in his later films. It is most fully developed in Tropical Malady: part 2 of this border-crossing masterpiece leads us into the magical world of the jungle and the were-tigers of Thailand.
In stylistic terms, Apichatpong has developed a specific kind of minimalism over the years; it can assume rhapsodic forms, with long, intertwining shots, restrained acting, a carefully restricted colour palette, and a real fondness for natural locations. There is also a beautiful serenity (which can certainly be considered Buddhist), mixed with a delight in the bizarre and grotesque, as well as the idiosyncrasies derived from Thailand's popular cinema. In Apichatpong Weerasethakul's oeuvre these naive and poetic illusions are transformed into an exhilarating idiom of contemporary artistic practice.
The director will be in Vienna from March 26 to 30. The Film Museum's richly illustrated book Apichatpong Weerasethakul, edited by James Quandt will be launched at the show's opening. It includes essays by Tilda Swinton & Mark Cousins, Benedict Anderson, Karen Newman, James Quandt, Tony Rayns, Kong Rithdee, an annotated filmography, as well as conversations with and essays by Weerasethakul himself.
Related materials