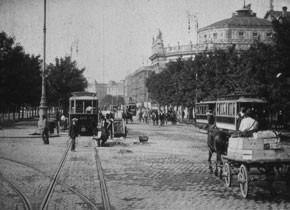 Ephemeral Cities. The City in "Ephemeral" Films
September 29 and 30, 2011
Film's capacity to produce both sensual and symbolic images, that is, to imbue specific places with abstract qualities, makes it a medium essential to our understanding of urban space. In recent studies on "visual history," film is thus understood as a kind of complex cartography: the medium merges the general aspects of a particular city with its singularities to produce a cognitive and emotional "picture" of that city.
The "Cinematic City of Vienna" is a much wider and richer terrain than that described by the canonical Vienna-set narrative films of the 1920s, 30s and 40s. Since 2009, two research projects conducted by the Film Museum and the Ludwig Boltzmann Institute for History and Society have focused on this area, analyzing and contextualizing a large body of so-called "ephemeral" films. These include home movies, early newsreels, industrial films, as well as dissident and avant-garde works – films which enable us to view the city, its topography and its social and political frameworks from new and unexpected perspectives.
The symposium and film screenings on September 29 and 30 will provide insights into these ongoing projects and relate them to international approaches: experts from Europe, Australia and the U.S. will present previously unknown film documents from their respective hometowns and shed light on their scientific, curatorial and artistic work with these "stepchildren" of film history. Rick Prelinger – cultural activist, film collector and board president of the "Internet Archive" – will present the opening lecture. Other guests include Nico de Klerk (EYE Film Institute Netherlands), Dan Streible, founder of the Orphan Film Symposium (New York), Patrick Vonderau (Stockholm University), Ryan Shand (University of Glasgow), Meg Labrum ­(National Film and Sound Archive, Canberra) and Sunniva O'Flynn (Irish Film Institute).
A joint presentation of the Austrian Film Museum, the History Cluster of the Ludwig Boltzmann Society and Gustav Deutsch & Hanna Schimek, with support from the WWTF and BMWF.
Related materials