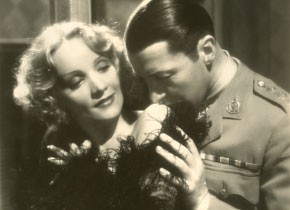 Josef von Sternberg
The Complete Works
April 1 to 27, 2007
 
A thousand lights glimmering in an infinite range of shades from white to black; a thousand bales of silk, organza and net tulle; a thousand dunes, date palms and marble chambers. Paired with words such as "Morocco", "Shanghai Lily", "Old Vienna", these visual delights give shape to a world ruled not by the laws of gravity and logic, but by desire. Its creator was able to convince himself that a personal vision such as his could be achieved by industrial means, and that the cinema of Hollywood would not just benefit from it, but perhaps be healed altogether.
 
The Austrian Film Museum's extensive April retrospective pays tribute to this man: When Josef von Sternberg, born in Vienna in 1894 as the son of orthodox Jews, passed away in Hollywood in 1969, he had become one of the inimitable 20th century artists – a poète maudit of cinema.
 
The most comprehensive European Sternberg retrospective yet gives an idea of the richness and the paradoxes in an oeuvre which is all too often reduced to the seven "Marlene Dietrich Classics". Sternberg's invention of a refulgent new screen persona incarnated at first in The Blue Angel (1930) and subsequently morphing into a Blonde Venus (1932) and The Scarlet Empress (1934), still overshadows his multiple achievements before and after the Dietrich films: his period as a young maverick/genius in the late 1920s when, at Paramount, he helmed such hits as Underworld, The Last Command or Docks of New York; his 1930s adaptations of Dreiser and Dostoevsky (An American Tragedy and Crime and Punishment with Peter Lorre in the role of Raskolnikov); or his captivating excursions into Noir territory with The Shanghai Gesture (1941) and Macao (1952).
 
Sternberg's most shrouded work is probably his last film The Saga of Anathan, shot in Japan with Japanese actors and devoted to that same spirit of full creative freedom and singularity which had marked the beginnings of his filmmaking career: The Salvation Hunters (1925) and Anatahan (1953) are films of a truly independent artist set on mastering most aspects of filmmaking by himself.
 
The Prater amusements of his youth, which he enthusiastically described in his autobiography, allow conclusions on Sternberg's idea of cinema – Eroticism, popular artistry, the dynamism of carneval as well as gaping wonder. His first job when he arrived in New York at age fourteen involved handling fabrics and lace in a fashion store while his first job in the movies was cleaning used films – the primary connection here being the tactile element, hands playing with and caressing the materials of glamour. With his switch to filmmaking, a hypnotic gaze is added. In Sternberg's films we experience sadomasochism, fetishes and objects of desire that are always about to disappear. "Glamour", he said after his psychoanalysis, "promises something which cannot be fulfilled". Implicit here is the pain that will accompany his whole career.
 
The huge success that his particular brand of glamorous eroticism enjoyed in the early thirties did not last. Hollywood was rapidly changing: by 1935, visual taboos, industrial self-censorship and the total "Fordization" of the film factory had gained the upper hand. The generation reared on public spectacle and amusement parks (Sternberg, Stroheim) was pushed aside by a generation of theatre and newspaper men (Wilder, Preminger). Sternberg withdrew more and more from the Hollywood fray. He directed a frivolous Viennese comedy about Empress Sissy (The King Steps Out), fell out with Charles Laughton on the (uncompleted) epic I, Claudius and, in 1950, entered a sublime mesalliance with Howard Hughes, agreeing to shoot the (thoroughly sexualised) cold war film Jet Pilot.
 
Only towards the end of his life, in the mid-1960s, Sternberg would finally regain some appreciation as an artist. His self-definition as an auteur, long before the concept was developed in France, had been his greatest "problem" during his professional life. He would rarely accept being a hired hand or "just a craftsman"; his immersion in the world of filmmaking could only be total. The film strip was his life and his damnation: "the celluloid ribbon that has not only wound itself around the earth but also encircled my own neck".
 
To this day the intellectual debate revolving around "Glamour" vs. "Substance" in Sternberg's work has not subsided. In order to better judge his achievements the two terms should be seen as a whole: the place of cinema is a threshold, and it will always be in need of artists who refuse to separate Inside and Outside, Depth and Surface but who, instead, weave them together into a dreamlike whole.
 
There's a beautiful line in The Shanghai Gesture: "I didn't think such a place existed except in my own imagination – like a half-remembered dream. Anything could happen here, at any moment." That place, if imagined correctly, is cinema. The cinema of Josef von Sternberg.
 
In addition to a number of rarely shown films, the retrospective offers lectures on Sternberg by Janet Bergstrom (UCLA) and Werner Sudendorf (Deutsche Kinemathek, Berlin). We are also proud to welcome Josef von Sternberg's daughter Catherine Dupont, who returns to Vienna for the first time since her childhood. 
 
A major highlight of the show is the first presentation in Austria of the recently recovered "Prater Fragments" from The Case of Lena Smith (1929). This legendary lost film is also the subject of the latest Filmmuseum book – Josef von Sternberg. The Case of Lena Smith – to be presented on April 19. By means of 100 superb original stills, the complete intertitles, several production documents and critical essays, it reconstructs Sternberg's "Schnitzler-style" drama about a young woman's struggles in Turn-of-the-Century Vienna.
 
The Filmmuseum's Sternberg project was made possible by the generous support of ERSTE BANK.
Related materials