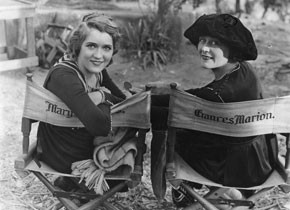 Kino-Atlas 3: A Mary Pickford Production
March 31 to April 3, 2016
When silent film stars are the topic of conversation, men are inevitably named first: Charles Chaplin, Buster Keaton, Douglas Fairbanks. In contrast, the many women who – on all levels – formed the cinema of the 1910s and 1920s have fallen into oblivion. Even Mary Pickford, one of the biggest stars of the era and a leading figure in Hollywood's early days calls for rediscovery again and again, at least in Europe. The third chapter of Film Museum's Kino-Atlas project therefore introduces several key Pickford works: five features and two short films.
 
Canadian-born and raised in poverty, Pickford was a self-made woman who early on escaped the subordinate role that the developing studio system attempted to impose on her. Even before founding United Artists together with Chaplin, D.W. Griffith and Fairbanks – with the aim of providing greater artistic freedom for creative personnel – Pickford acted as her own producer: the Mary Pickford Film Corporation, founded in 1916, was perfectly tailored to its star.
 
In the following years a regular production team formed with Pickford at the center: the former newspaper reporter and actress Frances Marion became her favorite scriptwriter, while Marshall Neilan, a forgotten master of the silent film era, served as her main director. In 1917 and 1918, their cooperation brought about some of Pickford's most beautiful films where comedy and melodrama brush against each other in exciting ways: in Rebecca of Sunnybrook Farm she plays an orphan girl; in A Little Princess she is struck by dire poverty; in Amarilly of Clothes-Line Alley she must escape the ghetto. In Stella Maris we are faced with two Pickfords, one rich, one poor; and in the 1921 The Love Light, one of only three films directed by Frances Marion, "America's Sweetheart" is placed in charge of a lighthouse. The program is complemented by Griffith's The New York Hat and the propaganda film All-Star Production of Patriotic Episodes for the Second Liberty Loan.  
 
Pickford's best films have a strong connection to fairytales while remaining firmly rooted in their time. In his study The Locks of Mary Pickford, Stefan Ripplinger writes about the modernity of these films, astonishing to this day: "Although they are made with the expectations and values of a plebeian audience in mind, Pickford submits neither to the boundaries of her gender nor her class. Instead, she refuses to resign herself to her fate, whatever it may prescribe: she is neither rich and lifeless, nor poor and hopeless; never settling for a dollish girl, nor a heartless boy."
 
The retrospective is presented in cooperation with the Mary Pickford Foundation, UCLA Film & Television Archive and the Library of Congress.
Related materials