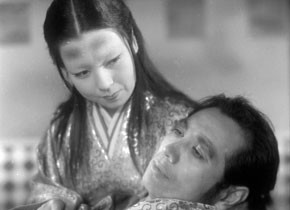 February 7 to March 5, 2014
"An exceptional nature, haunted by his own image. He was driven, unswerving in his search to create his ideal work. With

the death of Mizoguchi, Japanese film lost its truest creator."
(Akira Kurosawa)
As soon as his work became visible in the West, Kenji Mizoguchi was considered a key figure in world cinema. This was in the early 1950s – and little has changed since. If anything, his position in the canon is more secure now than ever. The initially exotic euphoria surrounding him has developed into a highly differentiated discourse which constantly discovers new facets of his work – comparable to the reception histories of Renoir, Ford, Rossellini, or Lang. All these filmmakers created oeuvres which can be endlessly (re-)arranged; their themes and politics lend themselves to constant reinterpretation. The work of Mizoguchi appears like a multifaceted set of beautiful crystal, offering new colors and inner structures each time we look at it in the changing light of history.
While many Mizoguchians admire his complete output, there are also various factions that emphasize different aspects of his films. There are the "formalists" who see the apotheosis of Mizoguchi's genius in the visual elegance and subdued majesty of his sequence shots, like those in The Story of the Last Chrysanthemum (1939) or Life of Oharu (1952). There are the "progressives," with a preference for the feminist of Osaka Elegy and Sisters of the Gion (both 1936) who would confirm this stance in post-war works like The Love of the Actress Sumako (1947) and Fallen Women (1948) or in his last film, Street of Shame (1956). There are also the "humanists," who primarily cultivate the Mizoguchi of the 1950s, the director of Ugetsu monogatari (1953) and Sanshō, the Bailiff (1954). And there are those who advocate the more fragile – or 'broken' – beauty in Mizoguchi which can be studied primarily in his early sound films. 
His collaboration with Kinuyo Tanaka may also be considered a separate phase of his (life)work, his most productive perhaps, because it culminated in less familiar masterpieces like
Miss

Oyū
and
The Lady of Musashino
(both 1951). If one looks at these groupings, fields, and viewpoints separately and then compares them, it is striking how many different filmmakers reside in this single being. Even if the disparate aspects sometimes combine, as in
Utamaro and his Five Wives
(1946), it remains hard to grasp how the completely antagonistic characters that carried Mr. Mizoguchi's name could find themselves in one and the same artistic oeuvre. 
Stories about him abound: how the boy, born in 1898, grew up in poverty (thanks to the misbegotten war-profiteering schemes of his father) and had to watch his older sister turn tricks to survive; how he tried to educate himself; how he was attacked with a knife at age 26 and severely injured by his geisha girlfriend (he had his own violent reputation in the brothels). With his film debut in 1923, he provoked the ire of the official censor. In 1941, his wife succumbed to mental illness while he was filming a movie. Ozu always (probably out of jealousy) presented him as an upstart and a philistine. And during the Venice festival he stayed in his room and prayed for the nation's salvation rather than go sight-seeing with Tanaka.
Mizoguchi know how to adapt to the prevailing political systems. In the 1930s he first made communist-leaning films, later turning to nationalist-militaristic themes, and then "democratic" works after 1945. But the true extent of his oppositional or collaborationist spirit could never be properly judged – too many of his most revealing works, according to contemporary critics, are considered lost.
It may not be necessary to know all of the anecdotes about Mizoguchi, but they help illuminate the fascination of his work and make it easier to explain many of the ambiguities found therein. Kaneto Shindō, who considered Mizoguchi his role model, always thought that in his movies, Mizoguchi was compensating for his guilt complexes regarding the women in his life. Political systems come and go, but the conditions of desire and devotion between men and women remain.
It would have been interesting to see how Mizoguchi would have come to terms with the 1960s and 70s and the developments in social and interpersonal relationships. But he died too young, in 1956, not yet sixty years old. If his last film is any indication, he was on the path towards a new creative highpoint.
A joint project of the Austrian Film Museum, the Japan Foundation (

Tōkyō

), the Japanese Embassy (Vienna) and the National Film Center (Tōkyō).
Related materials