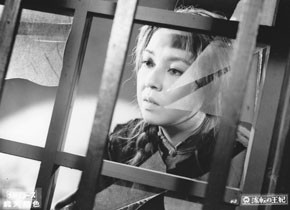 February 7 to March 5, 2014
In a still dating from the late 1950s, we can see a wall of men in formal black attire – and in the middle, like a tear in the fabric, a woman in a light-colored kimono. The photo was taken at the annual meeting of the Japanese director's union, and Kinuyo Tanaka was their first female member. The condition for being accepted to the union was to have completed at least three feature films – the quasi-definition of a directing career.
Unlike Kenji Mizoguchi's former assistant Tazuko Sakane, the first woman to direct a feature film in Japan, Tanaka was already an icon at the time of her directing debut, Koibumi (Love Letter, 1953) – as an actress. And she remained one until her death in 1977. 
Born in 1909 into an upper-middle class family, Tanaka experienced the family's descent into poverty after the death of her father. At age ten she earned her living as a lute player in the entertainment districts of Osaka. At 14 she decided to become an actress and through connections landed a job at Shōchiku Studios by the time she was 15. In the 1920s and 1930s, she embodied the complex, deeply divided image of a woman for the so-called Kamata Moderns, a loose grouping of Shōchiku filmmakers – including Ozu, Gosho, Shimizu and Naruse – who wanted to break away from old Japanese movie tropes and connect with the rest of the global film scene. Tanaka acted out all the social and political contradictions that young women of the era were asked to endure. She demonstrated various solutions to these problems, let some slide off her persona, and tolerated some. Tanaka was always a realist, as an actress and, later on, as a director: she showed what was possible and highlighted what should be possible – and how both of these things related to the general norms of society. 
Despite a brief marriage to Shimizu and lifelong worship by Ozu, Kenji Mizoguchi was the most significant man in Tanaka's life. For more than a decade, she represented his muse, companion, face, body, expression, the center of his films – or even their implicit co-author, as the Film Museum previously suggested during the 2011 exhibition, "Acteur: Auteur." 
She is best remembered for her portrayals of women who suffer from life and love (unto death, more often than not) – culminating in the dual zenith of
Life of Oharu
(1952) and
Sanshō, the Bailiff
(1954). This canonical view of formally perfect, deeply affecting movies runs the risk of becoming a cliché: Yes, this is what life on earth is about, women must suffer ... but what is often overlooked is the large number of films in which Tanaka portrayed women who do not fit that norm, who sometimes want nothing less than to change the world. Most of the Mizoguchi-Tanaka collaborations in the immediate post-war period are a case in point.
When she told Mizoguchi about her wish to direct, he flatly refused. She separated from him both as a partner in life and as a personal ally. Launching into a second career, she was able to direct six films whose intelligence and beauty have not yet been properly appreciated nor researched. One half century after she made her last film, Ogin sama (1962), the directorial work of Kinuyo Tanaka is still one of the best-kept secrets of Japanese cinema.
Like Mizoguchi, Tanaka recounts the difficulties of being a woman in a male-defined society. Unlike him, however, she was not looking for metaphysical insights. Within popular narrative forms, and as precisely as possible, Tanaka presented coercive conditions and available choices. She wanted to show how women and men are able to navigate the rapids that result from society and repression. She tried to identify what self-determination might look like, how to achieve it, and within what boundaries. In order to study the difference between Mizoguchi and Tanaka, the exercise of watching his last movie, Street of Shame (1956), back-to-back with her penultimate one, Girl of Dark (1961), is highly beneficial – similar themes, but completely different approaches. One can justly rave about and revel in Mizoguchi's movies. Tanaka's are for life. 
A joint project of the Austrian Film Museum, the Japan Foundation

(Tōkyō), the Japanese Embassy (Vienna) and the National Film Center (Tōkyō).
Related materials