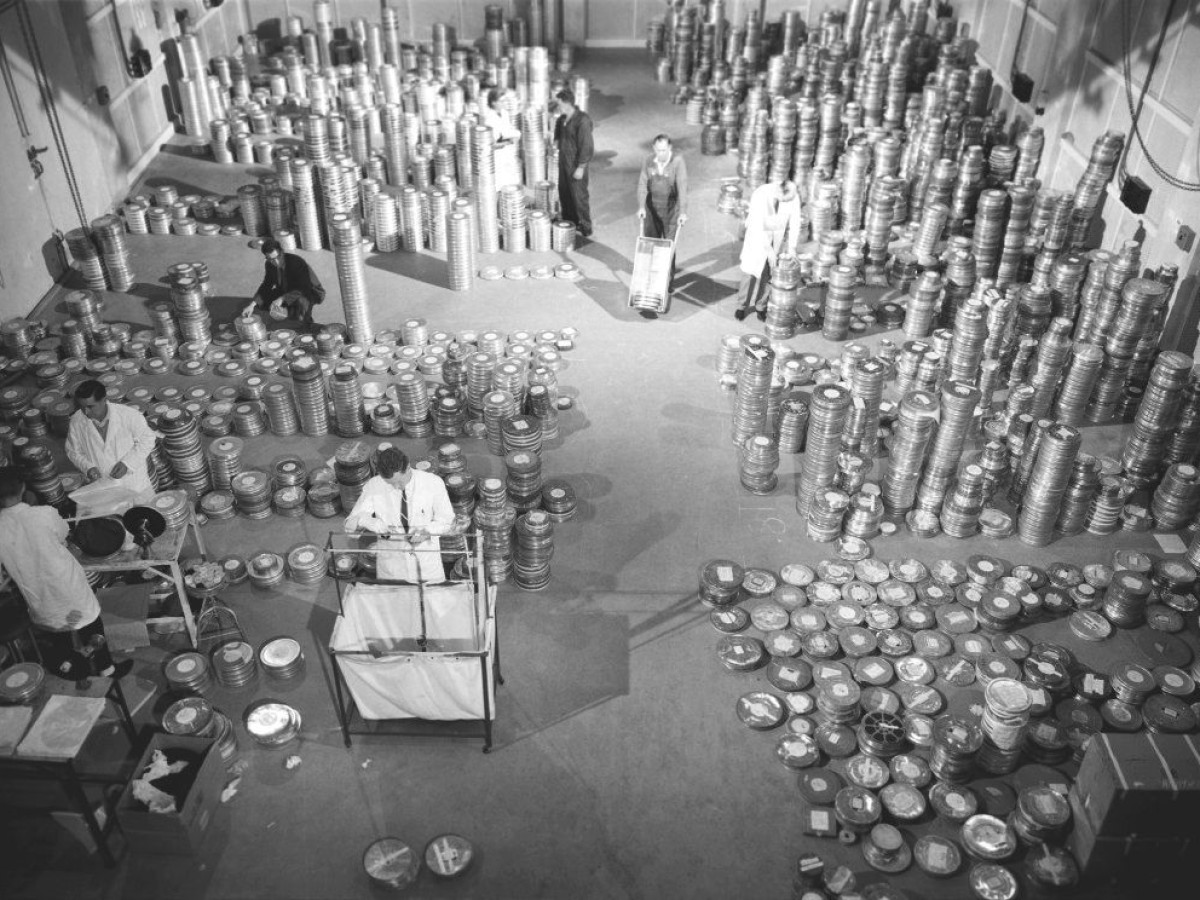 Forever Film
80 Years of International Film Archives
December 6, 2018 to January 9, 2019
The International Federation of Film Archives FIAF (Fédération Internationale des Archives du Film) was founded in 1938 with the aim of bringing together institutions dedicated to the collection and preservation of global film heritage. Beyond the pragmatics of film archiving, FIAF's 80th anniversary stands for 80 years of institutionalized international cooperation and collegiality. At the same time, FIAF represents more than the mission of preserving film heritage – it is also responsible for providing access to and showing films. Its decisions (intended and otherwise) have largely shaped the selection of what remains of film history and thereby written history through stories of loss and (re)discovery, patience, perseverance, and solidarity.
 
Drawing inspiration from this spirit of cooperation and everything it has made possible, the Film Museum decided to celebrate this 2018 anniversary with a retrospective on the big screen, where the fruits of FIAF's work belong. Instead of creating one more in the long line of film preservation festivals, we aimed for a carefully curated program that would tell the stories lying dormant in the depths of our partner archives. Every selection represents a particular aspect of the work, philosophy or history of the participant FIAF institutions.
 
Since the International Federation of Film Archives has meanwhile grown from four founding members (Paris, Berlin, London, New York) to 166 active members from 75 countries, it was impossible to invite everyone to join in on the celebrations. In view of this, we decided to turn to "friends and neighbors:" all those we can relate to, whether from a geographical point of view or in terms of shared ideas and practices of film preservation and screening. The selection of 30 participants in the retrospective (including the Austrian Film Museum) does not claim to be an exhaustive list of our next of kin: Many of the invited institutions were simply too busy to answer the invitation to our get-together and others will soon have the chance to contribute to our future retrospectives.
 
In practical terms, we asked our colleagues to burrow deep into their archives and send us suggestions composed of either unique or very special films from their collection. For example, films that were fundamental to the founding of the institution, films that played a major role in its history or had a formative influence on the institution. The films could also be reminders of crucial moments in the history of the International Federation of Film Archives or of certain people from the FIAF milieu whose work should not be forgotten. Some of the selected films invoke dramatic (rescue) stories, the kind that can be told only by FIAF, while others evince the appreciation of the film medium and the necessity of preserving it – preferably on film material.
The results of this "juicy and honorable curatorial exercise," in the words of one of our colleagues, amount to a veritable jungle of exclusive programs covering myriad aspects of film history. Its effect is a fascinating mirror image of the manifold, impure essence of the medium itself. Finding a way through this jungle was a challenge whose outcome we are glad to share with you, even if we have to point out one conspicuous facet of the program: As opposed to every previous program of the Austrian Film Museum, our FIAF retrospective contains a number of digital copies.
However, it seems only appropriate that our partner archives should present themselves in their chosen way. The abovementioned ethical and technical standards are inseparably linked to privileges this particular institution may enjoy while the same is made impossible for many comparable institutions all over the world, for a variety of economic or political reasons. Having said that, the Film Museum will continue to show films in their original format, but we are facing a future where more and more historical film works will unfortunately only be available in digital format.
Whether we like it or not, the nowadays omnipresent DCPs have meanwhile become a major and powerful block in the global understanding of what is still called "film" history. We will not allow this to spoil the "ambrosia of our lives," as the US film preservation pioneer James Card called cinema, and warmly invite you to honour and celebrate it together with us this season.
Related materials
For each series, films are listed in screening order.