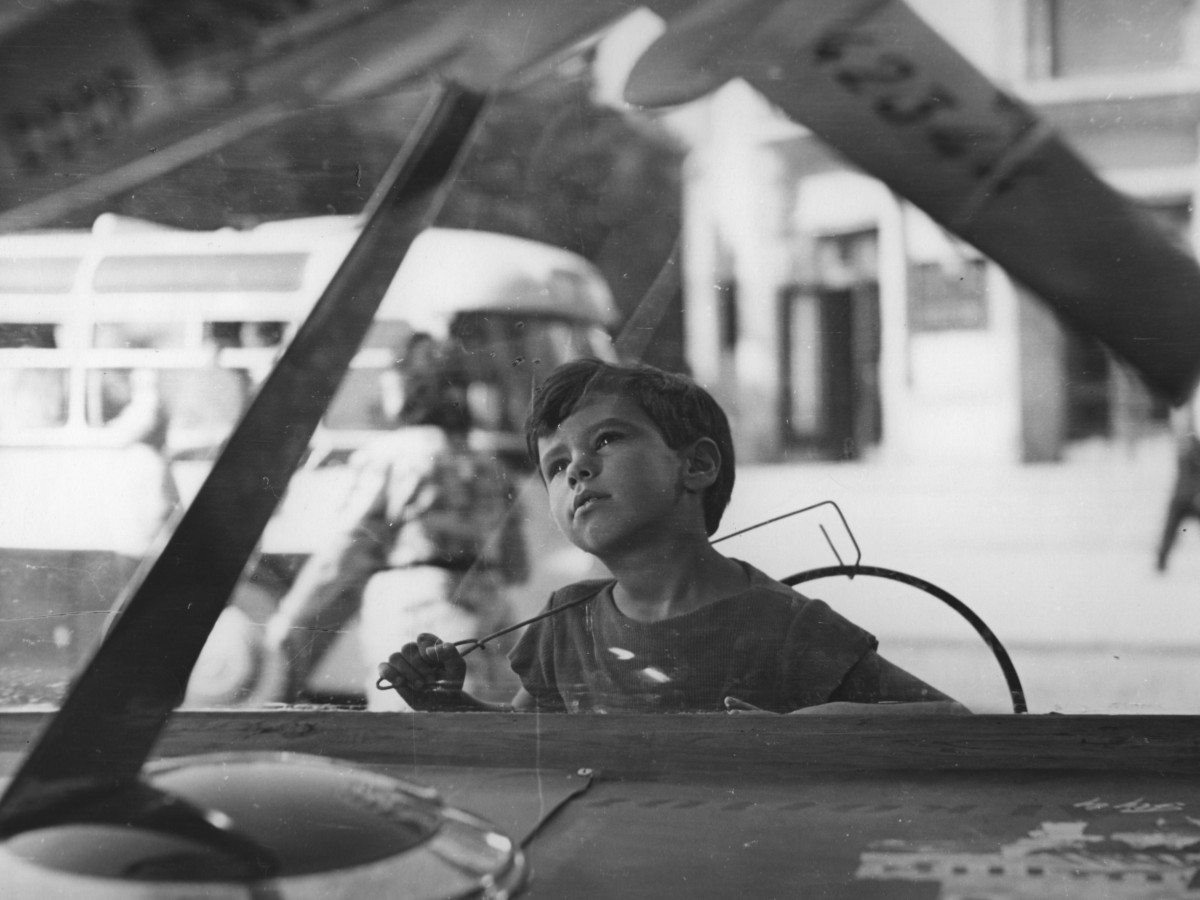 Michail Kalik
And the Wind Returneth
March 1 to 15, 2019

Between 1961 and 1968, Soviet-Jewish filmmaker Mikhail Kalik (1927–2017) directed three films whose originality, humanity and highly personal filmic language render them the finest examples of the cinema of the Soviet Thaw. He belonged to the same generation of filmmakers as Andrei Tarkovsky, Sergei Parajanov and Marlen Khutsiev, yet his name has been forgotten. But a closer look at his manifold, impressively concise film opus reveals an innovative, self-confident film artist ingeniously working with the full breadth of cinema. Beginning with his very first, co-directed film Yunost nashikh otsov (The Youth of Our Fathers, 1958), he flouted linear narration, instead opting for an episodic, elliptical structure in which events and premonitions are often illustrated via documentary footage, drawing attention from the main character to a medley of figures, locations and social classes. As one of few Soviet-Jewish directors, he was able to explicitly portray Jewish characters and their local tongue.
 
In his three masterpieces Chelovek idyot za solntsem (Sandu Follows the Sun, 1961), Do svidaniya, malchiki! (Goodbye, Boys!, 1964) and Lyubit... (To Love, 1968), individual scenes are knit together into a dense, cohesive whole with the help of music. Kalik met his closest artistic collaborator, composer Mikael Tariverdiev, during his studies at the Gerasimov Institute for Cinematography (VGIK) and brought him to cinema. Tariverdiev was later to become one of the most important Soviet film composers. The two developed scenes, atmospheres and film dynamics together. For Sandu Follows the Sun, Tariverdiev created what is probably the first jazz soundtrack in Soviet film history, while the theme of Goodbye, Boys!, hummed with tenderness and nonchalance by Tariverdiev himself, contains a lively performative element.
 
Kalik was born into the family of a famous theater artist in Moscow in 1927. After he completed his studies at the Russian Institute of Theater Arts, thanks to Mikail Romm, who interceded on his behalf, he became one of the first Jewish students ever to be accepted to the state film school VGIK in 1949. Shortly after beginning his studies, as Stalin's anti-Jewish policy came to a head, he was arrested and spent almost two years in the Gulag, which he later referred to as his "third university." He managed to return to the VGIK and soon thereafter found his artistic home in the studios of Moldova-Film. As a result of the censorship he faced with To Love and the increasingly anti-Jewish mood in Soviet Russia, Kalik and his family emigrated to Israel in 1971, where he changed his name to Moshe. The feature film he made in Israel, Shlosha v'achat (Three and One, 1974), was a terrible flop. This fact, along with Kalik's dissatisfaction with the new, technically inferior production circumstances in his new country of residence led to one last feature film, I vozvrashchaetsya veter... (And the Wind Returneth, 1991), whose depth of feeling and virtuoso directing clearly show what cinema has lost and gained in Kalik. (Gary Vanisian)
 
The retrospective is organized in collaboration with the Arsenal – Institute for Film and Video Art e.V., whose curator Gary Vanisian will give introductions to several screenings.
 
With special thanks to the Russian Gosfilmofond and the Federal Ministry for Europe, Integration and Foreign Affairs/Austrian Cultural Forum Moscow.