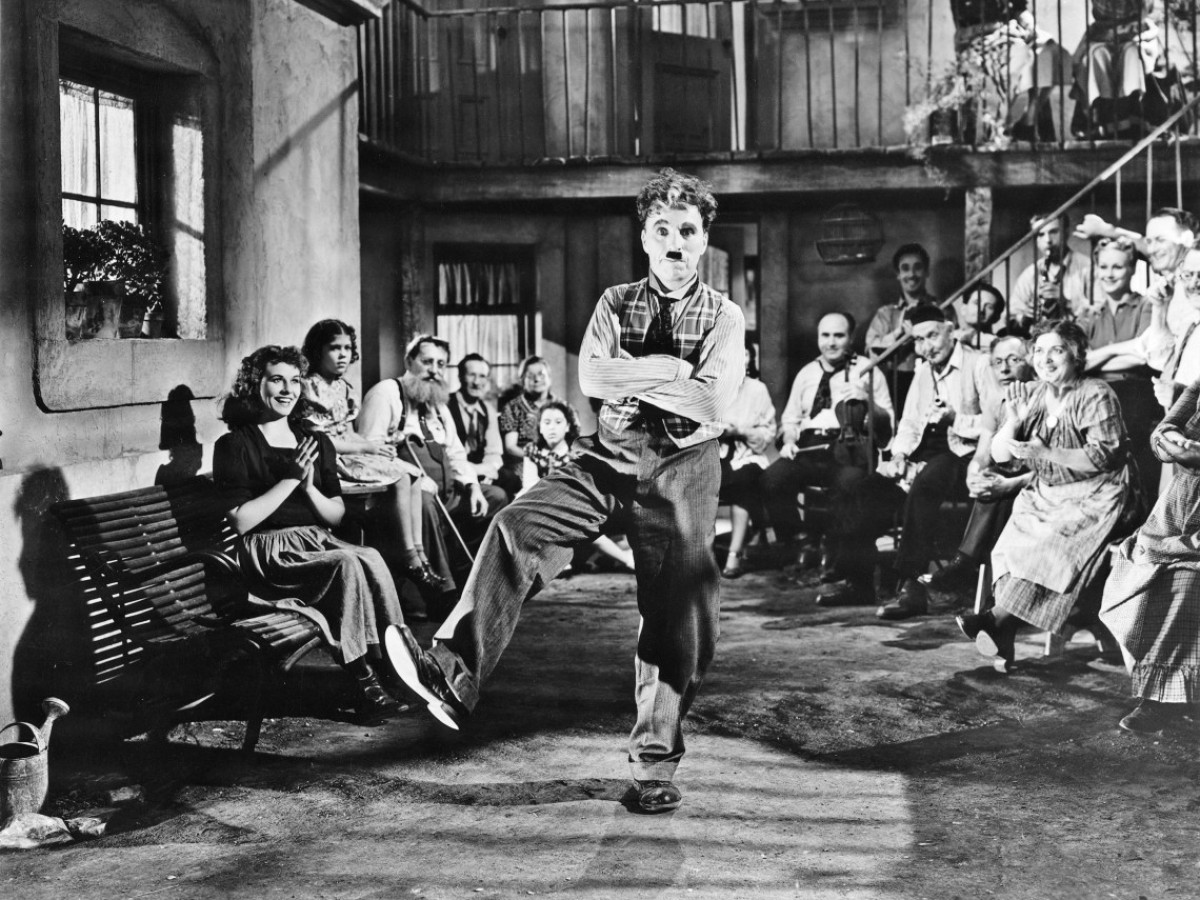 Who Laughs Last...
Comedy Against Crisis
May 19 to August 15, 2021
 
"Humor is just another defense against the universe." Mel Brooks

The current pandemic is making its mark in many realms, cinema included. Yet little media attention has been paid to the situation cinematheques and film archives are faced with in these trying times. Months after the initial lockdown many of them, including some of our most important partner institutions, have not resumed operation or have had to restrict it to an extent that makes the act of putting together film retrospectives as we knew it utterly impossible.
 
For example, one of the largest U.S. archives has now reduced its monthly distribution quota to merely five (!) films. And our collection depot is still playing temporary host to film prints we borrowed from partner institutions back in February 2020, all owing to the fact that many archives have remained closed since the first lockdown or are still on short-time work. Most recently, courier services have also become overwhelmed in the face of permanent changes in border traffic: The number of film prints lost in transit has been on a steady rise since March 2020.
 
But even if things should work out as planned, a new set of questions arises: What is the point of importing a rare and possibly expensive film print if only a handful of people can see it, or the screening cannot take place at all? More and more cinemas around the world find themselves in a dilemma with no way out: Without new "material" and without access to analog film history, their subsistence depends on the same digital titles that can be found on Netflix & Co.

In this respect, we as a museum are significantly better off. Since 1964, we have been in charge of a constantly expanding world-class film collection featuring films of all genres and key works of art film history: from the classics of auteur and genre cinema to independent and avant-garde films as well as important contemporary artists' estates.
 
Our film collection forms the stalwart basis of our retrospective Who Laughs Last... Comedy Against Crisis in which we direct our attention to the moment of "crisis." Or, rather, to the most effective weapon with which mankind has mastered the worst situations: laughter.
 
In the immortal words of Charlie Chaplin, "Life is a tragedy when seen in close-up, but a comedy in long-shot." His anti-Nazi satire The Great Dictator is perhaps the most famous example of comedy's resistance to a looming global catastrophe. We are showing a 35mm print of Chaplin's film, incidentally also the latest addition to our collection.
 
Humorous confrontation with crisis scenarios runs like a golden thread through the whole show: from the black-humored rendition of the nuclear threat in Stanley Kubrick's classic Dr. Strangelove and the virtuoso horror comedy Hausu by the recently deceased Japanese pop art genius Ōbayashi Nobuhiko, to the grunting, roaring anarchism of Michel Piccoli in Claude Faraldo's Themroc, to the artful arrangements in Luis Buñuel's explosive farewell film Cet obscur objet du désir which brings together surrealism and terrorism, or Roy Andersson and his painterly final-days imagery in Sånger från andra våningen.
 
One (unfortunately equally topical) focus of the program is "American madness." From the anarchic-destructive war mobilization in the Marx Brothers' masterpiece Duck Soup, our journey takes us through the Great Depression (Preston Sturges' Sullivan's Travels and the Coen brothers' O Brother, Where Art Thou?) to more recent comedy exploits that virtually anticipate the fall of an empire: Joe Dante's vision of a divided nation in The Second Civil War as well as politically incorrect works lashing out in all directions, South Park: Bigger, Longer and Uncut and Borat: Cultural Learnings of America for Make Benefit Glorious Nation of Kazakhstan.
 
But comedy packs more than just a subversive or enlightening punch: It is also the comforting seat of hope, a utopia. A whole series of films is devoted to community as an antidote to loneliness and isolation: In the form of the occupants of a Soviet apartment building (Boris Barnet's upbeat silent film Dom na Trubnoj) or the community gathered around the neighborhood video store (in Michel Gondry's VHS homage Be Kind Rewind).
 
Community is also created through such simple things as food, a central topic in the cult film Tampopo. It is also a driving force behind the irresistible clay model animation of Wallace & Gromit: The Curse of the Were-Rabbit) and, of course, springs from the action of working for a living. The film featuring the US comedy giant W.C. Fields (It's a Gift), or the works by the French maverick Luc Moullet (La Comédie du travail) and the German Dada jack-of-all-trades Helge Schneider (Jazzclub - Der frühe Vogel fängt den Wurm) tell stories of the struggle for work, revealing the absurdity of the contemporary "bullshit economy."
 
Last but not least, humor also wards off fear. Another good reason for us to explore the thin line between horror and laughter: from the thoroughly child-friendly comedy shivers of Wallace & Gromit or Tim Burton's The Nightmare Before Christmas to the "supernatural screwball" of John Carpenter's Big Trouble in Little China or Alex Cox's good-humored and outrageously positive science fiction apocalypse Repo Man. And doesn't Roman Polanski's bloodsucking comedy The Fearless Vampire Killers, if nothing else, tell us about rationality's defeat at the hands of an evil spreading like a virus? (Michael Loebenstein, Jurij Meden, Christoph Huber)
 
The obvious lack of gender diversity in this program needs to be addressed. Female voices – writers, directors – are missing. This gap is a reflection of the nature of our collection in terms of the genre of comedy. To engage with a collection curatorially means to discover its richness, but also to encounter its limitations, to be confronted with blind spots and omissions. While we cannot change the past, we must always remain mindful and acknowledge these shortcomings openly and honestly.