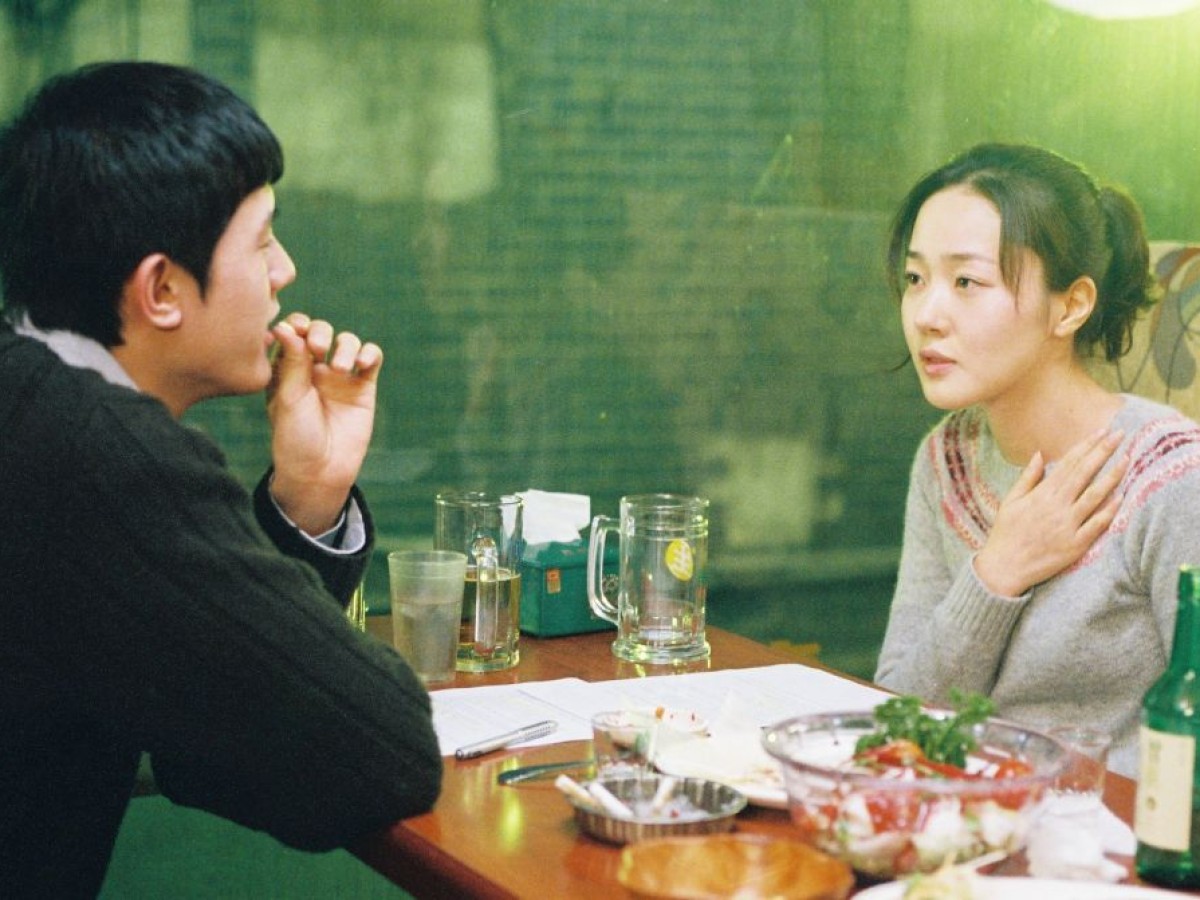 Hong Sangsoo – Early Works
Come Drink with Me
November 2 to 30, 2022
The extraordinary productivity of South Korean director Hong Sangsoo can be seen in his 28 films and three short films in 26 years: a world one can dive into during our two-part retrospective. Each of the films is like the stones of a building in which one briefly becomes lost in a delirium of differences and repetitions (and reductions).
 
Born in 1960, Hong is the son of a film producer. He studied film in Seoul and the United States. On his way back to South Korea, he devoted himself to a true film orgy at the Cinémathèque française in Paris and, after a handful of directorial assignments for TV, shot his first feature film in 1996. His style is unmistakable, his film language follows its own grammatical rules: a story that unfolds from an event about which little to nothing is known; an emphasis on female perspectives as well as the inadequacies, cowardice and/or cruelty of men; binge drinking that brings out the truth; static shots of people talking; slow zooms on characters in key moments during long sequence shots; and, very often, a caesura with which a mirroring/variation of the story begins.
 
After a few experiments and under the influence of Robert Bresson's Journal d'un curé de campagne (Diary of a Country Priest, 1950), Hong chose to make narrative films. For years, he carried Bresson's Notes on the Cinematograph around in his pocket. It contains a kind of manifesto for his films: "A small subject can provide the pretext for many profound combinations. Avoid subjects that are too vast or too remote, in which nothing warns you when you are going astray. Or else take from them only what can be mingled with your life and belongs to your experience." Hong is close to both his protagonists (directors, writers, actors, college professors, film students) and his shooting locations (Seoul and other Korean cities, Paris, where he lived, Cannes and Berlin, where he is often a film festival guest with his films).
 
In their pleasant and compelling manner, his films feel intentionally light. Hong avoids complacency and obvious ambition, preferring to construct delicate structures from seemingly casual, playful and sardonic observations. Using banalities, he devises a choreography of the everyday in all its imponderability. Hong's films could also be seen as studies of idiocy. Film scholar Sulgi Lie even speaks of "ridiculous seriousness."
 
In November, we will show Hong's early works, which had larger budgets and are longer than the later films from the 2010s. The dark characters in his debut, the adaptation Daijiga umule pajinnal (The Day a Pig Fell Into the Well, 1996), are still marked by the end of the military dictatorship and turn out to be cowardly, immature and ignorant men. As one of his colleagues, the director Claire Denis, notes, women are the real heroes in Hong's films. In his second feature and first based on his own script, Kangwondo eui him (The Power of Kangwon Province, 1998), Hong's delight in playing with film structure is already on display.
 
While studying experimental film in Chicago, Hong had a revelation through a picture by Cézanne: "When I see his paintings, I don't need anything else." He found this gesture of Cézanne's again in Eric Rohmer: he uses objects from concrete situations (a mountain, tree or pitcher) as raw materials to achieve abstraction. Cézanne draws lines between a concrete environment and an abstract construction. While Cézanne stopped there, Picasso went further – and it is precisely this in-between world that interests Hong too. He adds: "In Kangwondo eui him and Oh! Soo-jung (The Virgin Stripped Bare by Her Bachelors, 2000), the relationship between concrete and abstract is impermeable; one has to see this film on two levels. With Saenghwalui balgyeon (On the Occasion of Remembering the Turning Gate, 2002) and Yeojaneun namjaui miraeda (Woman Is the Future of Man, 2004), I gave up this very artificial construction and tried to be in the middle."
 
Keuk jang jeon (Tale of Cinema, 2005) starts a new cycle and Hong Sangsoo used the occasion to open his own production company, Jeonwonsa. With the help of a film-within-a-film, he expands his formal possibilities, adds voice-over, and introduces what will become his signature: the zoom. Next, the title Hawbyuneui yoein (Woman on the Beach, 2006) borrowed from Jean Renoir's The Woman on the Beach (1947) suggests that Hong remained true to the filmmakers he admires (Bresson, Rohmer, Ozu, Buñuel, Renoir, John Ford), but the film primarily established a comedic impetus in his work: of men in a fantasy world and women trying to avoid becoming images. Ban gua nat (Night and Day, 2008) is Hong's first film shot overseas: a young painter flies to Paris and finds himself back in a Korean community. Finally, Jal aljido mothamyeonseo (Like You Know It All, 2009) again highlights Hong's trust in the audience: his films construct a universe in which viewers are especially welcome because space has been cleared for them in the drama. (Pierre-Emmanuel Finzi)
 
With Hong Sangsoo in attendance on November 2, 2022
 
A collaboration with the Embassy of the Repubic of Korea in Vienna and in friendly cooperation with Munich Film Museum

Our two-part retrospective includes all of Hong Sangsoo's feature films except Saenghwalui balgyeon (On the Occasion of Remembering the Turning Gate, 2004), which unfortunately turned out to be no longer available.
 
Hong SangSoo's film So-seol-ga-ui Yeong-hwa (Die Schriftstellerin, ihr Film und ein glücklicher Zufall, 2022) will be shown in November at METRO Kinokulturhaus.
Related materials